After the one and only Papa John — aka John Schnatter, the founder of the pizza chain — cast a dark cloud over his company via self-sabotage, Papa John's is now in the process of rebuilding their brand. And they're getting help from someone who knows a thing or two about positive promotion: none other than former basketball star Shaquille O'Neal. Do we sense a name change to "Papa Shaq's" on the horizon?
That's right. Shaq is stepping in to right Schnatter's wrongs.
As of Friday, March 20th, the NBA Hall of Famer is officially a member of the Papa John's board of directors and is investing in nine Atlanta, Georgia Papa John's locations.
"We are thrilled to partner with Shaquille and welcome him to the Papa John's board," said Jeff Smith, Papa John's chairman, via a March 20th press release.
"Shaquille has an excellent entrepreneurial background, including as a restaurant franchise owner, and is a natural creative marketer."
Shaq has an extensive investment and franchise ownership record. According to Business Wire, he's the current owner of an Atlanta Krispy Kreme Doughnuts franchise, former owner of 27 Five Guys locations, and is the founder and owner of the fast-casual Big Chicken restaurant in Last Vegas and Shaquille's fine-dining restaurant in Los Angeles.
Yeah — Shaq knows what he's doing when it comes to the inner workings of the food industry.
You know @SHAQ as a Hall of Famer, sports commentator and entrepreneur. Today, we're adding "Papa John's board member and investor in Atlanta stores" to his long list of pursuits. His business savvy and passion for our pizza make him a great fit.

— Papa Johns (@PapaJohns) March 22, 2019
"I have truly enjoyed the high-quality Papa John's product for years and am excited to be able to help Papa John's raise their game to new heights," Shaq said via the press release.
"This is a triple threat opportunity for me. I am excited to join the Board and to help lead from the top, while also investing in nine stores in my home town of Atlanta and being an ambassador for the brand."
"I look forward to working with my colleagues on the Board and using my experience in business and community to build on the progress being made at Papa John's," he continued. "Papa John's is building a better culture, and I want to be a part of improving the Company from the inside out."
Time for a pizza party! I'm excited to join @PapaJohns as a member of the Board of Directors and investor in 9 stores in #Atlanta. Excited to work with Papa John's team members and customers - more here: https://t.co/PRXG7ORtFk pic.twitter.com/c5uj5BRuQ1

— SHAQ (@SHAQ) March 22, 2019
Plus, Shaq knows how to advertise, and advertise well. You guys have seen his bajillion commercials, right?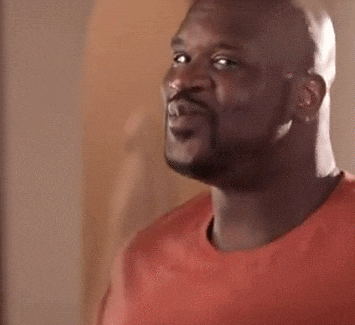 This partnership is great news for the Papa John's brand. Schnatter left the company in shambles after he started airing his political grievances seven years ago.
The beginning of Schnatter's end started at a 2012 shareholder meeting when he declared, "If Obamacare is in fact not repealed, we will find tactics to shallow out any Obamacare costs and core strategies to pass that cost onto consumers in order to protect our shareholders best interests."
He was then accused of not reimbursing delivery drivers for mileage expenses, made several donations to the Trump campaign, and then blamed dwindling pizza sales on the NFL's national anthem protests, which were spearheaded by former 49ers quarterback Colin Kaepernick.
Even after stepping down as CEO of Papa John's in December 2017, in July 2018, Schnatter continued to drag the company through the mud by using racial slurs in a conference call with a branding agency.
He was finally forced to step down as chairman of the board.
Shaquille O'Neal will be the new face of Papa John's. He replaces the chain's founder John Schnatter, who was removed after he reportedly used the N-word in a company conference call. pic.twitter.com/Z0O6sQTJhz

— AJ+ (@ajplus) March 22, 2019
Despite his downward spiral that battered the company's image, Schnatter still holds a 31% stake in the company. Obviously, this fact alone has left a bad taste in Papa John's fans' mouths.
I'm not buying a damned thing that puts money in John Schnatter's pockets

It could be endorsed by Barack Obama... it's still... pic.twitter.com/m6wECAyfWX

— ✋🏾 Fat Hand 🤚🏾 (@TheReal_EmTeeAy) March 22, 2019
Even with Shaq on board, many are still planning to boycott Papa John's as long as Schnatter is still in the picture.
And therefore, this boycott could last a long time.
Congrats on the deal, Shaq. But TBH — you can't win everybody back.
WE STILL AIN'T EATING THAT SHIT. Congrats Shaq.

— Black Gold Creole (@namaste_am) March 22, 2019
"The damage has already been done," one Twitter user wrote. It hurts, but it's true.
And some have advice for Shaq. Run — run while you still can!
However, some are seemingly more inclined to give the company another shot. No pun intended.
And for that, Papa John's is thankful. "We want you back and we will earn it," the company tweeted.
We continue to work on a brand you will be proud of! We want you back and we will earn it.

— Papa Johns (@PapaJohns) March 22, 2019
"I miss my Works pizza," another former fan wrote. Is it safe to order from Schnatter's company again?
According to the source, Papa John's is really trying to start anew. It will just be really hard to win back support if Schnatter is still lurking in the background.
We're in the midst of a transformation to become a better place to work for our 120,000 employees. This means creating a better culture, reflecting on who we are and what improvements we can make. See how we're doing it: https://t.co/Uh8pJSMrYY

— Papa Johns (@PapaJohns) March 22, 2019
Maybe the right marketing tactics will do the job. *Crosses fingers*
Give me the commercials where Shaq viciously dunks on a series of men who look a lot like John Schnatter. https://t.co/sDJlSRUa1r

— Ryan Nanni (@celebrityhottub) March 22, 2019
We have faith that Shaq can turn the company in the right direction.
And if we can at least get some more great Shaq content out of this partnership, then in our opinion, the whole thing was worth it.