Not all drugs are created equal. Even though it's still illegal in many states, people are starting to warm up to the many health benefits of marijuana and both of its well-known cannabinoids, CBD and THC. But while you, yourself, may have experimented with an edible before, it was probably a brownie or cookie. Not a burger.
Well, Carl's Jr. wants to change that up for you. For one day only (4/20, naturally) they'll be offering Denver, Colorado patrons the Rocky Mountain High: CheeseBurger Delight. (Get it? Cheeseburger has two capitalizations there for a reason.)
In doing so, the company will become the first fast food restaurant to offer up a CBD-infused menu item. That's kind of a big deal, especially because CBD is the hot new ingredient in plenty of edibles, and is even in beauty products such as lotions.
If you're somewhat new to pot, you may have some questions. The first being, why is April 20th such a big deal? The day is known for smoking pot, and also for activists who support marijuana legalization. Supposedly, the day itself became what it was because a bunch of high schoolers in the '70s started a ritual where they smoked pot every day at 4:20 p.m.
After that picked up some steam, "420" became slang for smoking. It's funny how these things start up.
Carl's Jr. kept their plan under wraps for some time. But when they revealed the news, fans couldn't believe it.
Me and the fam going on a quick 9 hour drive pic.twitter.com/sGrLkSx5lQ

— thing from swamp (@thingfromswamp) April 18, 2019
Another great thing about the burger? It'll be sold for $4.20. Of course.
Carl's Jr has a CBD burger, the 'Rocky Mountain High Cheeseburger Delight,' and will be selling it exclusively at one Denver location on 4/20 for $4.20.

🗣Do you think this is a good idea? pic.twitter.com/qtl8slrv3c

— The Talk (@TheTalkCBS) April 19, 2019
But even though it's sold where pot is legal, on a pot holiday, it probably won't get you high. That's because CBD isn't THC.
The burger that heals

— Mr.Based (@Sevilla12Juan) April 17, 2019
While both cannabinoids are found in pot, CBD doesn't get you high. But it does make you feel pretty good.
#CBD is known to be a healthy ointment for the rejuvenation and restoration of skin health. It contains anti-inflammatory, anti-psychotic and anti-aging properties which help it fight all kinds of skin inflammations and age-related health issues.https://t.co/4IQlUwdO57 pic.twitter.com/fknyL8dXac

— CBD NUTRITION ONLINE (@cbd_nutrition) April 19, 2019
For example, some people claim that CBD helps them sleep better at night. Others feel it's a great way to relieve minor pain.
And one of the best uses? It helps people who are coping with anxiety and depression.
With #CBD you might experienced a sense of calmness, well-being, and contentment, as well as a reduction of feelings of anxiety, depression, or general malaise but has no psychoactive properties and does not result in a traditional "high". #CBDheals https://t.co/AqlipJdy9U pic.twitter.com/cww23I7FIj

— TheHemptourage (@TheHemptourage) April 19, 2019
So, you might want to go to Carl's Jr. on 4/20 if you have a small backache — not if you want to get high. But even though that may be disappointing to some, it's still a massive occasion.
If you're familiar with buying CBD products, you probably know by now that they aren't cheap. Getting a CBD fix and also getting a delicious burger for $4.20 is actually an excellent deal.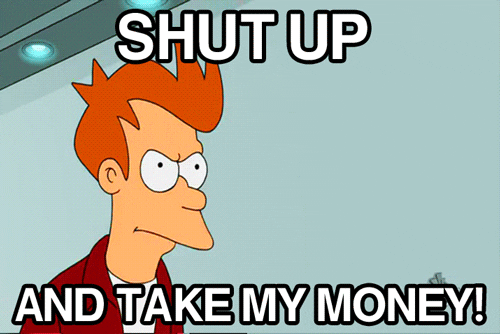 Plus, who knows what might happen in the future? A pot burger with actual THC may be just around the corner.
Come on Oregon ya'll better be on thc burgers by next year #wedabest https://t.co/xybz9jqd8k

— D. Naharis (@Saiyanprodigy1) April 17, 2019
Or, if you're located where it's legal, maybe that's something you'd want to experiment with yourself. But just as a warning, it might not be as tasty as what you'd get at Carl's Jr. (Remember, these people are professionals.)
So what's in this burger, you may ask? It's probably good to know before getting in line.
The Rocky Mountain High will contain two beef patties, pickled jalapeños, pepper jack cheese, and fries. Yes, fries.
The CBD is reportedly in its Santa Fe sauce.
Those in Denver might want to start creating, "I experienced the Carl's Jr. Rocky Mountain High: CheeseBurger Delight" shirts right now. Because, based on how limited this burger is, not many of us will be able to try it.
It's unclear as to whether or not Carl's Jr. plans on unleashing this burger every April 20th, but if so, you might want to plan a spring trip to Denver next year. That is, unless they open it up to more locations.
Bring it to California it will sell!

— ChatNoir (@blackcatmimmi3) April 17, 2019
Just remember — this burger won't get you high. But, it'll be a delicious lunch.
Plus, it's a fun way to celebrate, especially if you never have before. And who knows? It might be the positive introduction to CBD that you've been looking for.