There are few greater joys in life than dessert, but a trip to the beauty department is a close second. With this in mind, a mouth-watering trend has been taking over the beauty sphere, and we're living for it.
From chocolate bar palettes to beauty products inspired by trips down the candy aisle, it is truly the time to be alive for foodies. Food-inspired makeup is the perfect, and low-calorie, way to pay tribute to some of your favorite treats. Delicious scents and flavored palettes have taken all your favorite beauty brands by storm, and honestly, it's about time our two passions intersect.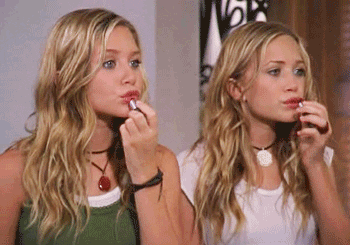 These beauty goodies are all about making you feel good and incorporating the sweeter side of life. Like, wouldn't it just be bananas if your setting powder actually smelled like bananas, or if you applied makeup with rainbow sprinkle-filled brushes?
Keep reading to shop some of our favorite gourmand beauty goodies that will give you everything you need to look like a snack.
1. Brunch Date Eye Shadow Palette
We're all about the brunch date. If a potential partner wants to be with you, they've got to love mimosas, bacon, and eggs, right? This adorable eye shadow palette has such a good mix of wearable looks and metallic. The best part, however, are the cute color names, which include "Let's meet for coffee" and "Reservations at 8."
Buy here for $30.
2. Les Chocolats Lipstick Gift Set
Scented makeup has returned in the best way. These shades have an undeniable chocolate aroma. Beyond the sweet, deep tones, the formula is supposed to last up to 16 hours. One reviewer describes the liquid lipstick as "having a chocolate brownie balancing on your lips all day."
Buy here for $20.87. 
3. Rainbow Candy Makeup Brush Set
Do you remember when everyone was posting from the Museum of Ice Cream? The Instagram hotspot has collaborated with Sephora to bring us lip colors, palettes, and lashes. Our favorite part of the collection are the makeup brushes, which come in a matching sprinkle-filled clutch.
Buy here for $13.99.
4. Chocolate Candy Bar-Style Scented Cosmetic Makeup Bag
Anything can be an inspiration — even a milk chocolate bar. This makeup bag not only looks like a bar of chocolate, but smells like one too! We can't help but think this would be the perfect gift for the biggest chocolate lover in your life.
Buy here for $24.79.
5. Watermelon Glow Jelly Sheet Mask
A jelly sheet mask is all about recovering dry, irritated skin, and there's nothing that sounds more refreshing than this sweet, watermelon-scented transparent mask.
Buy here for $16.97.
6. Too Faced Tutti Frutti Fruit Cocktail Blush Duo

We love this versatile blush, inspired by real fruit. Too Faced guarantees a radiant look whether you're "looking for bad-ass juicy color when you're feeling oh-so sexy, or fresh fun sparkle that keeps you looking sweet." And honestly, we're living for the party-ready sparkle.
Buy here for $14.99.
7. Too Faced Tutti Frutti It's Bananas Brightening Setting Powder
This banana-scented Tutti Frutti setting powder wants to give you "the most a-peel-ing photoshopped finish" possible. Plus, the packaging feels like an ode to simpler days sitting in the sun with our childhood friends.
Buy here for $32.39.
8. Red Apple Hand Cream
This adorable apple hand cream is known for some intense moisture thanks to its shea butter and royal jelly ingredients. Plus, as the saying goes, "An apple a day will keep the dryness away."
Buy here for $12.00.
9. Magic Food Banana Pongdang Lip Balm
Dry lips? It happens. Try this deliciously scented lip balm, which contains banana extract and coconut oil milk, and you'll feel so hydrated.
Buy here for $10.00.
10. Makeup Refrigerator
Beauty-dedicated refrigerators are a thing and they're everywhere. Like, it's hard not to spot a mini cosmetic fridge in all our favorite influencers' bathroom selfies. It's the current Instagram obsession. Chilled sheet masks and beauty tools are known to cool your skin and help with inflammation.
If you haven't seen one before, look below:
Buy here for $52.02.
11. Too Cool for School Egg-ssential Skin Care Set
This 4-piece skin care value set has all the basics. The cleanser, moisturizer, and mask are all part of the egg-infused essentials, meaning they're full of skin-nourishing powers of egg white and yolk extracts.
Buy here for $39.00.
12. Bubble Tea Face Mask Sheet
Black tea extract is packed with antioxidants for anti-aging benefits, so using this sheet mask has some major benefits! These masks are also super gentle, so it won't leave your skin stressed. It also contains strawberries, which are full of vitamin C and known to brighten the skin.
Buy here for $15.00.
13. Avocado Rich Lip Scrub
We love avocados, so not much is needed to convince us to rub it across our mouths for smoother lips. Of course, avocados have some deeply nourishing and moisturizing properties, in addition to being packed with vitamins and minerals. Ultimately, this scrub should leave your lips moist and glossy.
Buy here for $8.00.
14. Too Faced Semi Sweet Chocolate Bar

We're craving this more than an actual chocolate bar. Did you know about the hydrating benefits of antioxidant-rich cocoa powder? We didn't, until today. Now, we can't take our eyes off this chocolate-inspired palette, from the shimmery caramels to matte chocolates.
Buy here for $31.99.
15. Prada Candy
This is known to be a delightfully addictive scent. It's sweet as candy and the bold pink, and gold bottle reminds you of bright wrappers and hard candy. On days you want to smell like a candy store, look no further.
Buy here for $50.36.
16. Sephora Coconut Lip Balm
This coconut lip balm is all about nourishing the lips and making them more comfortable. Thanks to the sugar exfoliants, your lips are being gently scrubbed and softened, which will make your lipstick slide on so much smoother.
Buy here for $11.50.
17. Haeyo Mayo Hair Nutrition Pack
Okay, listen. Mayo in your hair sounds disgusting. But, this hair mask is full of enriched oils that'll give your hair moisture and shine. Don't worry, the company promises the mask will leave your hair smelling like a sweet blend of vanilla and macadamia nuts — and nothing like the sandwich dressing.
Buy here for $16.
18. 100% Natural Arabica Coffee Scrub
Coffee is magic. This is just more evidence that our favorite beverage was sent from heaven. Coffee Scrubs are loaded with antioxidants, which help to fight the appearance of premature skin aging like wrinkles, and this one combines organic coffee grounds with moisturizing, skin-soothing organic coconut oil and dead sea salt for an extra exfoliating kick.
Buy here for $15.45.
19. Mellow Cotton Candy Mask Pack
These are so good for a Girl's Night or sleepover with friends. These masks were designed with sensitive skin in mind and use natural ingredients such as: chamomile, aloe, and rosemary. It smells refreshing like lemons, but it's not overpowering.
Buy here for $10.90.
20. Green Tea
Sleeping Pack
This is a sleeping pack with organic green tea water to fill dry skin with suppleness and clarity while you sleep. So, you're even being productive while resting your eyes. Who doesn't need an anti-oxidant-packed overnight infusion?
Buy here for $28.90.
21. Superfood Mask
This is another way to hit the reset button on your skin. We're here for anything that promises to balance and restore tired skin.  Plus, this superfood blend is out of this world! Now, I'm not totally sure what age-defying antioxidants, phytonutrients, and essential amino acids are, but they're definitely going on my face ASAP.
Buy here for $44.
22. Dream Team Pigment Palette
This is another part of the Sephora collaboration with The Museum of Ice Cream. The ice cream-inspired product is an amazing eyeshadow palette that'll take you on a sugar-filled candy journey.
Buy here for $41.00.
23. Sushi Cosmetic Bag & Case

There's nothing fishy about this adorable cosmetics case. It's a super unique way to carry some of your favorite products to touch up on the road.
Buy here for $21.81.
24. Half Caked Lip Fondant — Gummy Bear
Sugar and spice and everything nice should always refer to flavored lip gloss. While we've cut our gummy bear habit since leaving high school, we hope incorporating the flavor into our makeup doesn't leave us looking any less mature. But really, who cares what anyone else thinks?
Buy here for $13.
25. Beauty Bakerie Blending Egg Beauty Sponges
The packaging on this is just eggs-traordinary. The beauty sponges literally come in a carton of eggs. We're sure you'll be crackin' a bunch of awesome looks with these blending tools.
Buy here for $35.99.
26. Nutella Makeup Case
We think your makeup case should make a statement. If you're like us, loving Nutella is a lifestyle. While we wear our love for the hazelnut cocoa spread on our sleeve, you can find fun ways to rep the brand. If you can't relate, this is a great gift for a Nutella fanatic.
Buy here for $13.99.
27. Lucoss Ice Cream Eyeshadow Palette
The best part of this eyeshadow palette and color scheme is inspired by ice cream. Peep the matte, shimmer, soft, luminous, and dazzling shades below.
Buy here for $9.99.
28. Halo Top X Colourpop Strawberry Eyeshadow Set
Bright pinks, bold reds, and fresh peaches are all behind what inspires these beautiful colors.
Buy here for $45.00.
29. Crème Brûlée Eyeshadow Palette
You've got to be able to go from day-to-night and these seriously-pigmented shades do that. Plus, they're inspired by one of the most enticing desserts in the world.
Buy here for $32.95.
30. Candy Chunky Glitter
You'll go out looking super sweet with these cosmetic glitters. Plus, if you're looking to tap into the Euphoria makeup trend, here you go.
Buy here for $6.99.
31. Beauty Creations Baked Pops Highlight Sweet Candy
The packaging on this literally looks straight out of Willy Wonka and the Chocolate Factory. But, fear not, there's no golden ticket required to play with these deliciously delightful, whimsically wonderful shades.
Buy here for $7.00.
32.  Clear Peach Makeup Bag

Everything is peachy when all your makeup is organized. This is such a great travel bag because you can literally see through it to easily grab that makeup brush or exact lipstick, without having to dig everything out first.
Buy here for $12.99.
33. TonyMoly I'm Real Sheet Mask
Take 20 minutes. Replenish your skin with this 3-layer pulp sheet (filled with natural ingredients and enriched essence to give you maximum hydration for your skin).
Buy here for $18.00.
Our So Yummy editors handpicked the items in this article. Affiliate links may give us a small share of the revenue to support our creative team.