At this point, chances are good that you've heard that Meghan Markle is serious about food. As a self-proclaimed foodie, Meghan is dedicated to creating and eating healthy meals that also taste really great. Before marrying Prince Harry and becoming an official member of the royal family, Meghan ran a lifestyle website called The Tig, where she regularly shared tips and tricks for a healthy diet. The lifestyle site is gone, but Meghan's dedication to food definitely isn't. In fact, sources credit her for helping Harry adjust to a much healthier diet and lifestyle.
In a recent interview with Delish, Meghan talked about some of her favorite food tips as well as what her average meals look like. And after trying her "sexy" pasta sauce and absolutely loving it (even after being super skeptical at first), we knew that Meghan *must* have more food hacks up her sleeves. And reader, we were not disappointed. It turns out Meghan has more tricks, including one that involves steak and lemons. Just like the sexy pasta sauce, at first glance, this tip seems pretty strange, and doesn't seem like it would work out that well. Still, Meghan swears by it. The tip? You can enhance the flavor of any steak by adding a splash of lemon juice. Meghan told Delish, "Nobody tastes the lemon, but it really brings out the steak's flavor," saying that she adds a squeeze of it right before serving it to guests.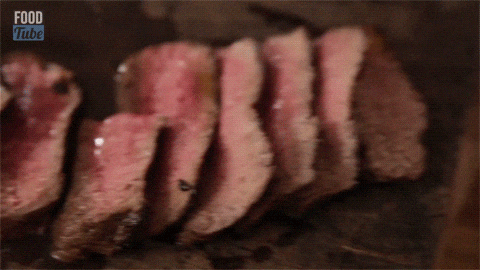 It definitely seems like an interesting idea, and one that we're going to have to try out now that we know about it.
It seems that Meghan is actually a big fan of using lemon in pretty much anything, as she also said that she drinks hot water with lemon every morning to boost digestion.
Other tips from Meghan? She has previously shared her favorite acai bowl recipe with Eye Spoon, which includes bee pollen on top. She also recommends freezing the actual bowl before making it to keep it even cooler. And of course, you can't forget about Meghan's epic "engagement chicken," which is the dish she made Harry the night he proposed. It's Ina Garten's recipe, and it's one of Meghan's long-time favorites.
Is there a royal rule that Meghan can't share cooking tips now? We definitely hope not!
Obviously, food hacks are our jam here at So Yummy. And if you plan on following Meghan's steak and lemon hack but can't do it right away, here's a super easy hack that helps store steak in the freezer without getting freezer burn.
You're welcome!