It's hard to talk about pop music without one name coming to mind: Taylor Swift.
The singer has been a music icon for years, and she has the hardware to prove it. (We're talking 10 Grammys, 23 Billboard Music Awards, and 23 American Music Awards. Phew!) Throughout her career, she has also managed to seamlessly transition from the country to pop, and has reinvented her look and sound with each album. 
As we enter the era of Lover, it's hard to not look back on the songs that have become such a huge part of our lives. Tay was with us in our awkward teenage years when all we wanted was one guy to notice us ("You Belong With Me.") She also grew up with us as we headed out on our own, leaving our parents' house blasting "Welcome To New York." There is no denying that there is a Taylor Swift song to fit every mood. Through it all, Swift has managed to remain unapologetically herself.
Relatable, funny, and strong, Swift connects with her fans in a way that makes you feel like she's one of your best friends. It's safe to say that hanging out with Swift and her squad (oh, hey Selena!) would be a dream come true, and as any real Swiftie knows, it isn't an official Taylor hang without some baked goods.      
Our girl Taylor loves to bake, and over the years she has whipped up some amazing treats. Ok, we admit, we haven't tried them, but they look amazing on Instagram. All of these sweets have given us serious sugar cravings, and some major inspiration to block out the hate, hate, hate and start to bake, bake, bake. 
Chocolate Chip Cookies
Sometimes cookies speak louder than words, as in the case between Taylor and Katy Perry.
After years of feuding, the pair decided to break bread in the sweetest way possible.
In Taylor's signature frosting, the Cats star provided a note to accompany her baked treats. As you can see in Katy's Instagram post, the words "peace at last" decorated across the plate, in addition to Perry's snap location labeled as "Let's Be Friends."
They proved things are really in the past, after Katy appeared in Taylor's "You Need to Calm Down" video.
Layered Cake
Everyone knows her hit "Shake It Off," but do you remember the time Taylor teamed up with celebrity TV chef Jamie Oliver to parody the hit to benefit Stand Up to Cancer? 
Even better than Tay's impressive layered cake topped with a sparkling Roman candle has to be the parody lyrics.
Jamie teases, "Pop stars can't bake, bake, bake, bake, bake / My cake is gonna taste so great great great / First place I'll take take take take take / Bake it off."
Valentine's Day Cookies
In perhaps one of the kindest gesture of all time, Taylor proved to be the best Valentine's date to a fan.
The fan documented her day full of baking, flower crowns, and Taylor on Tumblr, which is gave us major FOMO in 2015.
"I just spent the past three and a half hours hanging out with the world's greatest musician, inspiration and friend. And her cat," wrote the lucky Swiftie, Sophie.
"Taylor, thank you so much for everything. I will never be able to put into [words] how grateful and thankful my family and I are that you welcomed us into your home, made us lunch, baked cookies with us, SANG 'WILDEST DREAMS', took selfies and spent your time talking to us ON VALENTINE'S DAY. I love you more that words could ever describe and this was by far the best day of my life."
Flag Cake
If there is one holiday Taylor Swift loves to celebrate, it's the 4th of July.
Her summer soiree is normally held at her house in Watch Hill, Rhode Island and always features an array of famous friends. Over the years the party has seen the likes of Emma Stone, Gigi Hadid, Joe Jonas, Blake Lively and Ryan Reynolds, and Tom Hiddleston wearing that infamous "I <3 T.S." t-shirt. The party also always includes lots of fun patriotic attire and some truly incredible looking food.
Taylor always makes her famous flag cake to celebrate the occasion.
The cake is a classic white cake, decorated with a perfect flag using fresh fruit like blueberries, raspberries, and cherries. Want to know how to make this summertime staple? You're in luck, because Swift has shared that she uses her cooking hero Ina Garten's recipe. Now, you can celebrate America just like Swift and her squad.
Chai Sugar Cookies and Dark Chocolate Peppermint Cookies
Back in 2014 (yes, somehow it really was that long ago) Swift graced us with 1989.
The album redefined her sound and cemented her position on the pop charts. Before officially releasing the album Swift hosted several "Secret Sessions" with her closest fans. Lucky fans around the world got invited to Taylor Swift's house to listen to the record before it was released, and hang out with the songstress. Taylor also made homemade baked goods for the party to make sure all of the guests felt welcome.
One of the baked goods she made for fans was her Chai Sugar Cookies.
The cookies are make with butter, sugar, vanilla extract and flower. To add a special something to the treat Swift tops them off with cinnamon eggnog frosting. Lucky for us the cookies were such a big hit that she shared the recipe on her Tumblr page.
The other cookies Swift made for the listening sessions were her Dark Chocolate Peppermint Cookies that are made with cocoa powder and peppermint extract. Fans have said the cookies remind them of a homemade Thin Mint, so, like, we could probably eat a whole batch in one sitting.
Chocolate Chip and Toasted Coconut Cookies
As if the chai sugar cookies and dark chocolate peppermint cookies weren't enough, the "ME" singer lived up to her reputation for being a generous host with additional choices.
In the clip below, you can see her making "bulk batches" of chocolate chip and toasted coconut cookies for her guests while wearing a red apron and her matching trademark lipstick before the 1989 Secret Sessions.
Where does she find the time??
Chocolate Chunk Oatmeal Cookies
It's no secret that chocolate chip cookies are a crowd pleaser, and from the looks of it Tay likes to make them any chance she gets.
Parties at Swift's house usually include a bevy of famous friends like Karlie Kloss and Martha Hunt, and normally they all end up in the kitchen bonding over their love of sweets.
Recently, Swift came out and shared that she always uses Food Network host Anne Burrell's recipe for Chocolate Chunk Oatmeal cookies.
She even tweeted at Burrell thanking her saying,
"I saw you in my mentions & wanted to let you know that your chocolate chip cookie recipe was a real turning point in my life." We can't even imagine the excitement we'd feel if Taylor tweeted at us, let alone used one of our recipes regularly.
Burrell was also thrilled with the news and shared her recipe with fans, so they could bake like Swift herself.
Whoopie Pies
Taylor Swift isn't always in charge of hosting girls night.
Her friend Kelly Osbourne hosted an intimate girls night with Swift and their mutual friend Claire Winter Kislinger.
At the cozy night in the friends made Whoopie Pies. The dessert is comprised of two hand-sized pieces of cake held together with a sweet creamy filling.
We're not sure the exact recipe the girls followed but popular versions include red velvet, gingerbread, pumpkin, or chocolate. Whatever version they ended up making, we're sure it was one tasty treat.
Buckwheat Crepes
When you're a global superstar, your schedule is always jam-packed, so we can imagine that having a lazy weekend morning at home is a treat in and of itself.
Hey, I mean, we're not multi-platinum selling singers, and we're always down for a day well spent on the couch with a cup of tea and a good book, or Netflix session. Swift likes to keep things simple for breakfast saying,
"I love making buckwheat crepes with ham, Parmesan cheese, and a fried egg on top. It's my go-to breakfast."
She also has admitted on Instagram to rolling out of bed at 1 p.m. to make herself the crepes. What can we say, pop stars need their beauty sleep, and if we're being honest, rolling out of bed in the early afternoon is goals. Respect, Tay, respect.
Anniversary Chocolate Cake
Back when Swift was dating Calvin Harris, (*sigh*) the two celebrated their one year anniversary with a homemade chocolate cake.
The dessert was covered in chocolate frosting and decorated with red hearts and "1 year" piped out in white frosting.
The cake not only represented a sweet gesture, it was also the first time the duo went public with their rumored romance.
While the couple broke up in 2016, it is heartwarming to think that Taylor often bakes sweet treats for her beaus. We're sure Joe Alwyn is a fan of Taylor's baking prowess.
Apple Pie
From her love of country music, to her wholesome style, Taylor is an All-American girl, and there are few things that fit the motif more than apple pie.
Swift has Instagrammed her apple pie on several occasions and it's reportedly her brother Austin's favorite dessert.
While we don't know the exact recipe, it's safe to assume she uses a delicious blend of fresh apples and cinnamon.
If you ask us, there is nothing better than a slice of hot apple pie with a side of vanilla ice cream, and we're sure Swift knocks the dessert out of the park.
Pumpkin Bread And Ginger Molasses Cookies
When fall comes around it's the perfect time to stay in with a cozy sweater and relax, and Swift is no different.
She loves the fall season and especially anything pumpkin. In an interview with CMT News, Swift said she always goes into "baking overdrive" with cinnamon and pumpkin flavors.
She also loves to bake treats like ginger molasses cookies and breads for her friends as a surprise saying:
"So there's gonna be pumpkin bread that I'm gonna make a lot and give it to people. That's what I do in the fall." Rumor has it is that she also loves to add chocolate chips for a sweet twist on the signature recipe.
Cupcakes
As much as she loves to bake with her friends, Swift isn't afraid to flex her baking skills alone either.
In a since deleted Instagram post Swift admitted she made a batch of cupcakes by herself because she was feeling like it.
Naturally the cupcakes looked almost too pretty to eat.
Nothing wrong with a bit of self love, but, girl, if you're taking applications to join your squad, just let us know!
Christmas Cookies
Taylor Swift has never been shy about her love of the holidays, and she is always ready to kick off the Christmas season with some baking.
Back in 2013 Swift invited over her pal Hailee Steinfeld to make Christmas cards and decorate cookies. The two captured the festive fun on Instagram captioning the photo "Merry Swiftmas and Hailee New Year."
While we aren't certain what kind of cookies they made, each one was lovingly decorated with white icing and covered in different colored shimmery sprinkles.
Later Steinfeld dished about details of the hangout on Ellen saying the pair liked to "Hang out and bake and talk about boys and stuff." She also admitted they liked to watch tons of cat videos on Youtube. Cookies and cute cats?
If you ask us, there doesn't sound like a better way to spend an afternoon.
Birthday Cake
Yes, we really did go all the way back to 2012, when they made this "party in a bowl." In the video her and three friends, Liz, Claire and Caitlin, wear chef hats and goof around until it's time to return to hair and makeup.
Watch what happens when they find a kitchen in an arena and Taylor shows Liz to how to make the perfect cake to impress her crush.
This isn't the only birthday cake she makes, so here's another video of her making one for her younger brother, Austin.
She hilariously shares it is a mature cake, poking fun at the message she wrote, "UR A ADULT NOW!! 18!"
If you think making a fuss over her friend's birthdays was a thing of the past, you'd be very wrong.
Just look at how she threw this epic birthday for Lily Aldridge. While we can't confirm or deny she made this cake, it has Swift's signature written all of it.
https://karliekloss.tumblr.com/post/133599009488/belated-birthday-celebrations-for-the-one-and
Yes, she even threw this epic bash for Camilla Cabello, with not one, but two cakes.
Just last year, Taylor made her bestie Selena Gomez the sweetest cake.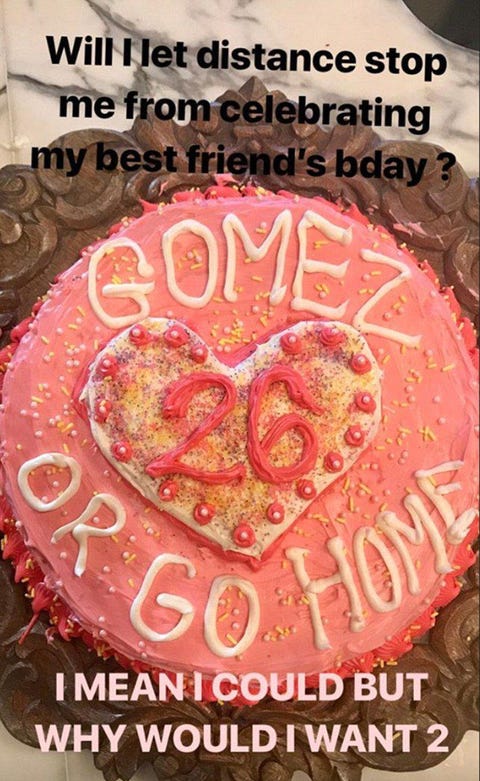 As you can see in Tay's adorable Instagram story, the singer didn't let being on opposite sides of the country or on tour prevent her from creating this piece of homemade pink confection perfection for her BFF.
While we didn't think the 10-time Grammy winner could be any more talented, it's safe to say she's making the world a happier place with both her musical and baking talents.