Phobias are a real thing — and sometimes, a little kindness from strangers can go a long way. A 22-year old Criminology student named Demi Sweeney figured that out pretty quickly when she realized that even though her roommates were gone, she wasn't alone in her apartment. A spider found his way inside and scared her so much that she had to get creative with plans for removal.
Sweeney asked some brave buddies for advice, and one of them suggested that she order food and ask for the delivery driver to help her get rid of the spider. It's a really genius solution, especially since she'd also get a lunch out of it. This isn't the first time a delivery person has come to the rescue, either. Just this April, a delivery driver named Ralph Letner saved two people when he saw their trailer was on fire while delivering a pizza. While a spider and a fire are two totally different scenarios, it proves that delivery people often have big hearts when it comes to their customers.
Of course, Sweeney double checked to see if a delivery person would be up for the task before ordering in some KFC — a good celebratory lunch for spider removal.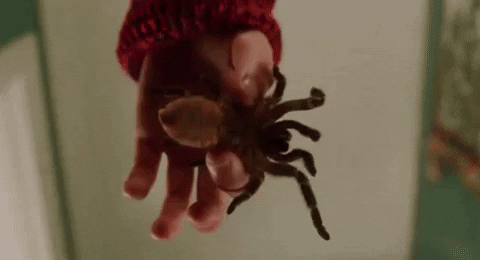 The company she used, Deliveroo, told her the task would be no problem if the driver also didn't have a spider phobia.
Now, for some bad news — the delivery driver, named Joe, wasn't a huge fan of arachnids himself. But he went above and beyond to help Sweeney battle the problem since he's such a nice guy:
[FACEBOOK_IA_AD_TAG_1]
"When I pointed at the top of the stairs handing him the tissue roll and getting him a chair to stand on, he then reached for the spider and accidentally dropped it on the floor where it began to run, which made me panic more," she said to Buzzfeed. "He said: 'Look away, don't look.'"
Sweeney, who said that Joe was laughing a little at the task, went on to call him a "livesaver." She made sure to let Deliveroo know they had a good guy on their team.
What a guy! Great to see Joe could lend a helping hand - we hope nobody got stung! 🕷🕸 We'll drop you a DM you shortly so we can give Joe the praise he deserves 👋

— Deliveroo Help (@DeliverooHelp) May 31, 2018
If your delivery driver goes above and beyond like that, a gigantic tip would be a very nice thank you.