It's hard to argue with the idea that peanut butter is one of the best foods out there. It's delicious whether you're eating a natural version, the chunky version, or the super smooth one. It can be added to basically anything to make it taste better, like sweet sandwiches, smoothies, or oatmeal. It's even good when you eat it on a spoon straight out of the jar. So as much we hate to burst your bubble, there's something you need to know: there's a gross ingredient that's hiding in your peanut butter, and it's time to expose it.
Depending on the kind you buy, peanut butter is pretty simple. Natural peanut butter should be made of just one thing: peanuts (sometimes brands add palm oil or salt for flavor). Peanut butter that isn't natural is usually made of peanuts, sugar, oils, molasses, and chemicals to preserve it longer. Oh, and your peanut butter can also contain fragments of insects and even rodent hair.
Do you want to eat bugs... Worms and insects? But just can't seem to keep it down?

No worries, just eat grains, cereals, peanut butter and drink juices.

The government sets allowances for insects in your 'food'... So eat up! 😂

— Steve Cooksey (@diabeteswarrior) August 26, 2018
I bet ya didn't know there's traces of insects in peanut butter

— quel (@raquellespron) November 14, 2014
When I was little someone someone told me the little black specks in peanut butter were squished insects...still wondering

— Payt (@PaytonW_7) January 21, 2016
Yup, it's unfortunately true: the FDA has actually confirmed that there might be "an average of 30 or more insect fragments per 100 grams" and an "average of one or more rodent hairs per 100 grams."
My bio professor just said eating insects is the same as eating peanut butter because they're both proteins.. umm no Pam that's not ok???? 😅

— Nicole Bergman (@bergman_nicole) April 29, 2015
Is that the worst thing you've ever heard? Probably!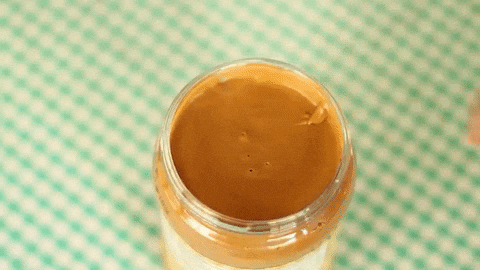 What are insect fragments and rodent hairs doing in your precious peanut butter?! It's disgusting to even think about noticing, let alone to think about how much you must have eaten already.
The FDA allows an average of 30 insect fragments and one rodent hair per 100 grams of peanut butter.

— UberFacts (@UberFacts) December 20, 2011
Peanut butter sandwich is probably a crap shoot.. You either get one rodent hair or one bug part in every sandwich.

— @(Grievous)@ (@GeneralGrevious) February 21, 2011
There's something even worse than this thought, though, and that is that there are fragments of insect and rodent hairs in a lot of other foods. That includes things like oregano, canned peaches, dates, nuts, and olives… and so many more. Basically, there are insect fragments in almost everything you eat.
You'd be surprised the amount of insects in the food you ALREADY EAT for example chocolate, Mac and cheese and canned peaches #EdibleInsects

— Quinetta Latham (@divinedivaqueen) July 25, 2012
ewww everything we eat has eggs of insects & magets!!! ewwwwww!!! in pizza sauce, aparagus, mushroom, canned peaches. D: *throws up

— mickey (@SMONASTY) May 19, 2011
So… yeah. Is it time to burn all of the peanut butter, or is this something we can manage to get over? Honestly, we're not sure right now.